Reopening of our Health Clubs & Spas Read more

Published: 11 August 2021
There are 5 different skin types: do you know yours?
Whether you're a skincare expert or just starting to research anti-aging products, you'll have most likely come across skin types and may have often wondered: "ok, but which skin type am I?". To help answer this question, we've broken down the skin types below: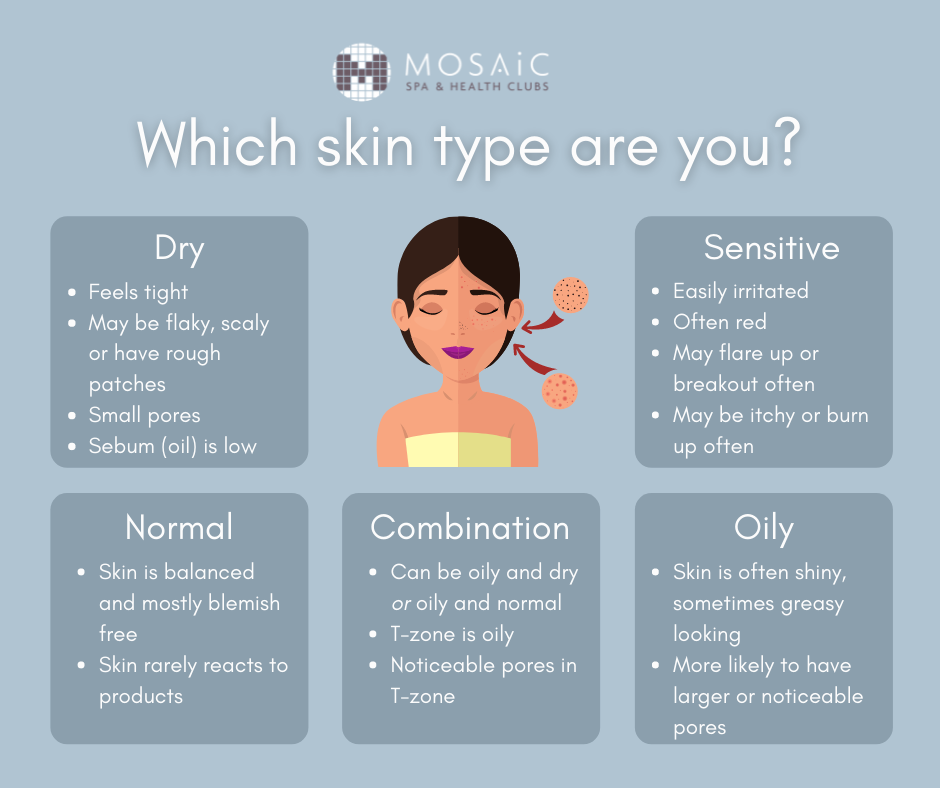 How do I tell which skin type I am?
Generally, when reading the above you may have already had an "a-ha!" moment, but it's not always so easy. For instance, you can have dry but blemished skin. Blemished skin alone doesn't mean your skin type is oily.
Some people recommend the "blotting paper test", where you try blotting tissue paper on your face. If the tissue is dry, you likely have dry-normal skin. If your nose or forehead leave a little oil, you most likely have normal/ combination skin. If the tissue is rather oily, then you most likely have oily skin!
A more professional (but expensive way) is to visit a dermatologist.
Can my skin type change?
Yes! Colder climates, hormones, aging and medications can all impact your skin type.
Can pregnancy effect my skin type?
Yes, you may see changes in your skin during and after pregnancy. This is due to the hormonal shifts. Some women will see their skin return to how it was shortly after, though for some women it can stay for much longer.
How do I tell if my skin type is changing?
There are a few ways to tell if your skin type is changing. Firstly, you should be able to tell by the feel of your skin. Is it drier? Oiler? Redder? Monitor these changes over a few weeks, because products or reactions to make-up can impact the skin temporarily.

Long-term wise, if your skin products are no longer showing the same results, or your skin is breaking out in blemishes more, feels drier throughout the day, these are all symptoms that would suggest your skin type has changed.
What do I do if my skin type changes?
When your skin type changes, we recommend researching your new type and seeing which products you need may need swapping out of your skin care. You can also look at booking a dermatologist appointment for a more professional opinion and personalised guidance on your skin.
If you have... Dry Skin
Ingredients to look for: Glycerin, Hyaluronic Acid, Poly Hydroxy Acids (PHAs), Hemp Seed Oil, Rosehip Oil, Squalene, Ceramides, and Linoleic Acid.
If you have... Oily Skin
Ingredients to look for: Kaolin Clay, Glycolic Acid, Hyaluronic Acid, Niacinamide, and Salicylic Acid.
If you have... Combination Skin
Ingredients to look for: Vitamin C, Hyaluronic Acid, Peptides, Ceramides, Vitamin E, Aloe Vera, and Glycolic Acid.
If you have... Normal Skin
Ingredients to look for: Hyaluronic Acid, Vitamin C, Hyaluronic Acid, Alpha Hydroxy Acids (AHAs), and Retinol.
If you have... Sensitive Skin
Ingredients to look for: Rosehip Oil, Salicylic Acid, Squalene, Rose Water/Oil, Kaolin Clay, Aloe Vera, and Hyaluronic Acid.
Published: 11 August 2021