Reopening of our Health Clubs & Spas Read more

Published: 21 August 2017
Dan's On Board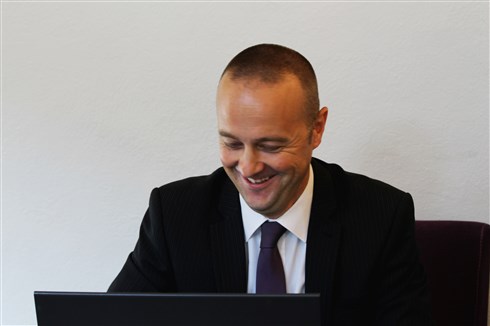 It has always been a core value of Mosaic to promote from within and this month we are delighted to announce that long serving Regional Manager, Dan Fewings, has been appointed to the Mosaic Board as Operations Director.
Dan's new role will be very similar to the work he has already been undertaking as a Regional Manager but he will work closely with our other Regional Managers and Head Office team to ensure we continue to provide the service and returns our clients and our members are looking for. He will continue to manage our health and safety systems and ensure we are compliant with all the latest industry regulations.
It was back in 1992 when Dan joined the business, fresh from completing his BTEC ND in Leisure at Suffolk College, at the Ufford Park Health Club when it first opened. From there Dan moved across to become first Duty Manager, and then Club Manager at Bedford Lodge in Newmarket. He then became a Regional Manager and over the last few years has gradually grown the number of sites he has been responsible for.
"Getting my first Club Manager's position was a proud moment for me, however I always believed that was a role I could achieve. I am not so sure that during my days of lifeguarding, cleaning the changing rooms late at night, or getting up at 5.30am to make the 50-mile trip to Newmarket for an early shift, did the thought of becoming a Director ever enter my mind," admitted Dan.
"To be offered the chance to take on this role with Mosaic was an opportunity that was certainly too good to turn down. One thing is for sure, I would not have become a Director if the Club Managers I first worked for, or Dave and Steve, the business founders, had not taken the time to mentor and develop me. That is something I will always be thankful for."
"I am looking forward to the challenges that role will bring and be more proactive in helping shape the future of Mosaic. I hope that I can make the company as proud of me as I am to be able to say that I am working for Mosaic."
Welcoming Dan to the Board of Mosaic, Managing Director, Dave Courteen said;
"We're delighted that Dan has agreed to become Operations Director of Mosaic. We are passionate about promoting people from within. Having been an integral part of our business for the last 25 years, Dan's promotion to the Board is the perfect demonstration of how we live out this core value of our business. Dan is highly respected by both our clients and the team and I am sure he will be a valuable addition to our Board."
We wish Dan well in his new role!
Published: 21 August 2017