Reopening of our Health Clubs & Spas Read more

CBD Oil 101: Skincare Benefits

CBD oil may be the current beauty buzz word (and star ingredient of our newest STRESS NOT CBD MASSAGE treatment) but what exactly is CBD oil and are there any benefits to using it in your skincare?
What is CBD oil?
CBD stands for Cannabidiol, a chemical in the Cannabis sativa plant, more commonly referred to as cannabis or hemp. It is non-intoxicating, and has no psychoactive effects - meaning it does not cause a "high".
What are the benefits of CBD oil?
CBD has been popularised for it's many therapeutic benefits and possible health-boosting effects. There is belief it can help with anxiety, chornic pain, arthritis and insomnia. Research into CBD is still ongoing, so there may be even more benefits discovered soon!
Why use CBD in skincare?
In skincare, CBD is thought to ease many common skin and health issues. Some of the benefits of CBD oil in skincare are; it can help reduce inflammation, hydrate dry skin and provide relief to aches and pains. It also provides a source of antioxidants, which are powerful when it comes to keeping fine lines and wrinkles at bay!
Do you offer an CBD treatments?
Yes, we have a new CBD treatment in our spas that is perfect for trying CBD oil, our Stress Not CBD Massage.
This is a calming and anti-inflammatory massage targets muscle pain and melts away tension using the power of warmed White Jade Wave Stones leaving you feeling inexplicably relaxed and soothed from top-to-toe. Using Temple Spa's CBD balm STRESS NOT, this massage naturally eases muscle stiffness and calms busy minds… giving you a moment of blissful respite!
Are there any recommended CBD skincare products I can try?
Temple Spa, our product house, have two brilliant products that include CBD. One is an all-over balm that is perfect for easing aches and pains or soothing dry patches, the other is a delightful skin booster oil that is sure to moisturise.
LIGHT RELIEF
CBD Skin Booster Oil
A lightweight superfood oil enriched with hemp, CBD and green mandarin oil.
This skin-soothing oil is designed to support the recovery process and bring comfort to stressed out, fragile, dry or dehydrated skin. It contains 3% CBD complex to calm down signs of redness and irritation plus alleviate blemishes. A soothing blend of coconut, hemp and olive oils together deliver a deep-down rescue mission for your skin.
10 ml, RRP £25.
STRESS NOT
All-Over CBD Balm
A clever multi-purpose CBD-infused balm to bring comfort to stressed out skin and anti-inflammatory relief to aches and pains.
Packed full of a deeply soothing blend of shea butter, 3% CBD complex, vitamin E and 9 powerful and nourishing superfood oils, including hemp, canola, rice bran and apricot that together deliver a deep-down dose of do-good. Dry and dehydrated skin will be a thing of the past and overworked muscles eased with an application of this skin whisperer. It's uplifting scent of fragrant green mandarin will soothe your soul and settle a frayed mind.
50ml, RRP £30.
Where can I book the STRESS NOT CBD MASSAGE or sample the above products?
You can book our STRESS NOT CBD MASSAGE at the belows spas, and sample our CBD skincare products.
Riverhills Spa & Health Club, Ipswich, Suffolk
The Spa at The Grand, York, York
Bank House Hotel, Bransford, Worchester
Holmer Park Health Club & Spa, Hereford, Herefordshire
Devonshire Spa, Buxton, Derbyshire
Imagine Spa
Knights Hill Hotel, Kings Lynn, Norfolk
Park Farm Hotel, Hethersett, Norfolk
Old Hall Hotel, Caister-On-Sea, Norfolk
Wymondham Leisure Centre, Wymondham, Norfolk
Holiday Inn, Kensington. London
Orton Hall, Peterborough, Cambridgeshire
Quy Mill, Stow-Cum-Quy, Cambridgeshire
Hazlewood Castle, Tadcaster, York
The Shrewsbury Club, Shrewsbury, Shropshire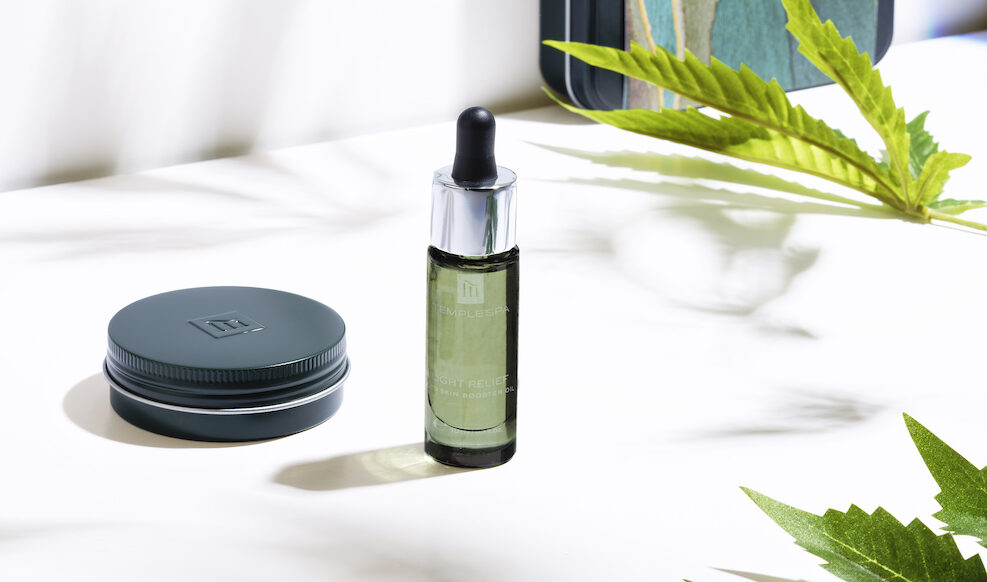 STRESS NOT and LIGHT RELIEF by TempleSpa Skincare, available in our spas whilst stocks last.